1. Give us your character name, level and class.
Somalin, 80, Priest
2. Post the link to your gear (WoW Armory) If you are logged out in non-PvE gear, give us a time that we can view the armory and see your PvE gear.
http://www.wowarmory.com/character-shee ... &n=Somalin
3. Fill out the spec (or multiple specs if necessary) that you would use in your primary raiding build at
http://www.wowhead.com/?talent
.
http://www.wowhead.com/?talent=bVcbzhZcxtcc0qihVIst
4. If available, please attach some WWS records (or any similar log parses you may have) of some recent raids. Feel free to submit bad ones and identify what you did wrong and why they weren't as stellar as other ones you've submitted.
5. List your past guild(s) and reason why you are leaving your current (or most recent) guild.
Ive only been in one serious raiding guild and that was at 60 when i xfered to doomhammer to raid with their top guild and kill KT in naxx, when bc came out i pretty much just pvped in 2k brackets as holy and upon hitting 80 i joined diesel then /laughed and realized i needed to find a good guild before WOTLK came out with real raids
6. What raiding experience post-BC do you have?
When BC came out i really gave up the whole PVE thing and did a lot of pvp in the 2k+ brackets, while pvping i did pve from time to time clearing all BC content with the exception of Hyjal/BT and Sunwell. WOTLK ive killed everything but Maly but i do know how to do the fight and am not bad.
7. Post a screenshot of your current UI.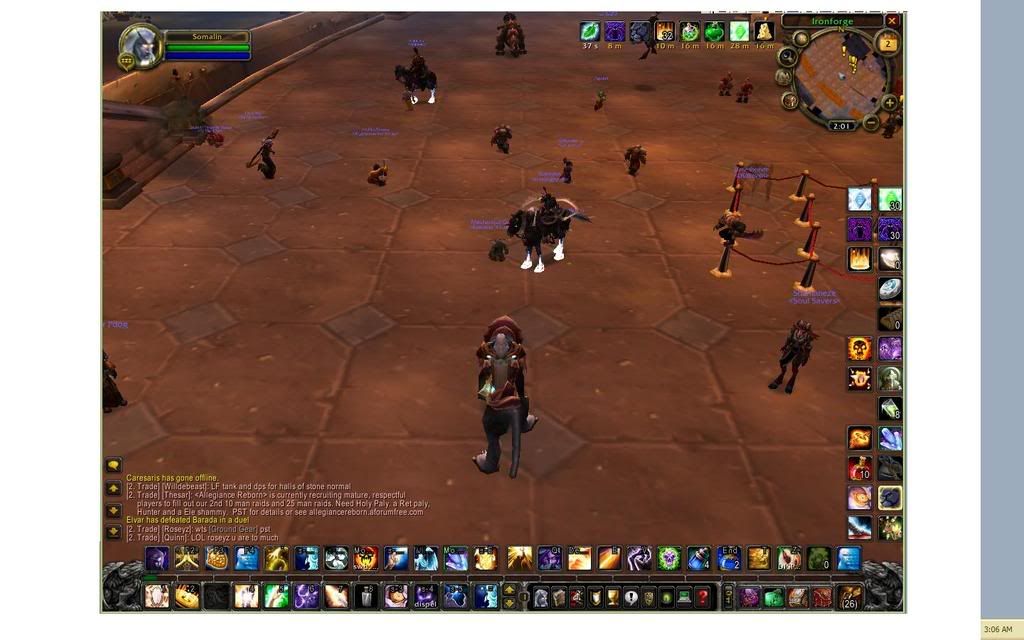 8. Give us a little information about yourself. This can be anything including (but not limited to) age, likes/dislikes, previous / current games played, computer spec, STD(s), how you got said STD(s), etc.
21 years old, i work in a Jail so i have 100000000 stds and thats how i got them. i dislike fat girls and mustard. im going to be a cop in a few months blah blah blah theend.
8.1 Do you have a stable internet connection, good computer, and headset? Are you willing to speak on ventrilo when necessary during raids?
I do, I do, AND i DO.....oh im willing.
8.2 Do you read Guild Forums (Raid Section, Off Topic...)? Do you create or reply to active topics about the new encounters during raid progression ?
If im in a guild.
9. Please tell us your exact availability for the following times. Also, tell us about any limitations you may have in the future. For example, might you have work-related leave at some point, a long vacation without internet access, two weeks of non-stop exams, a bad internet connection at peak hours on Friday, etc.
6:00PM-2:00 AM, i work graveyard shift so im used to being up all night lol.........My job is unpredictable and i dont always have a set schedule month to month, i am a Corrections Officer and im part of our SERT(swat) team and sometimes crazy things happen at work where i am called in to assist in certain situations on my days off, so i cant give you exact times of being available but i can most likely make 3-4 raids per week. i should be able to make 3 raids a week but cant make promises, my schedule is going to change in 3 months when i get my car and go to patrol so its hard telling but we will see.
10. Please include some contact information. Ideally an AIM, MSN or Xfire screen name.
msn= grelement_412@yahoo.com
11. Why do you want to join RD?
I like to be around people that are competent and understand the game mechanics and dont have time to keep retards in their raids that just slow them down. With new content being released shortly i would like to be a part of a raiding guild that has a clue whats going on and is in need of skilled healz
12. Find a picture of an animal and post it, then tell us why you chose this animal or picture. The more clever, the better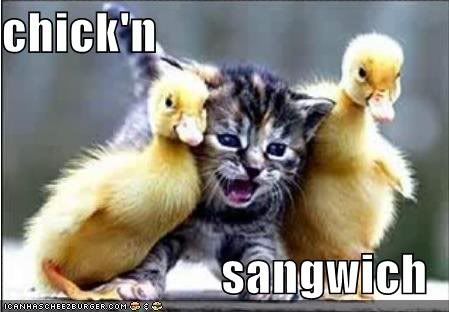 everyone loves sangwiches....i dont need to explain it